Whether you are considering to begin operating an English conversation school, or presently operatin gone and evaluating a change in your course materials, National OEC membership offers you acomprehensive support plan tailored to your needs. Not only do we have a wide range of educational materials for purchase, we also offer complete educator and management training services, and anexclusive territory guarantee to help differentiate your service from the competition.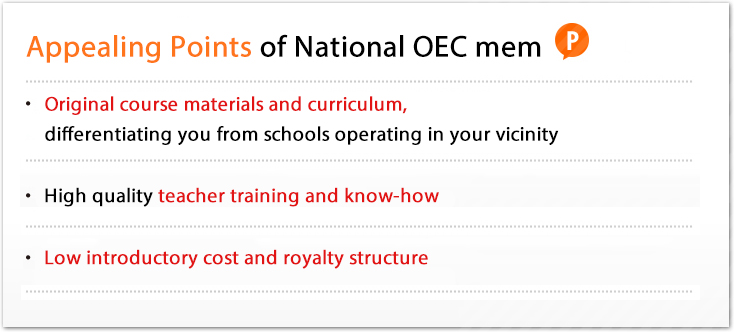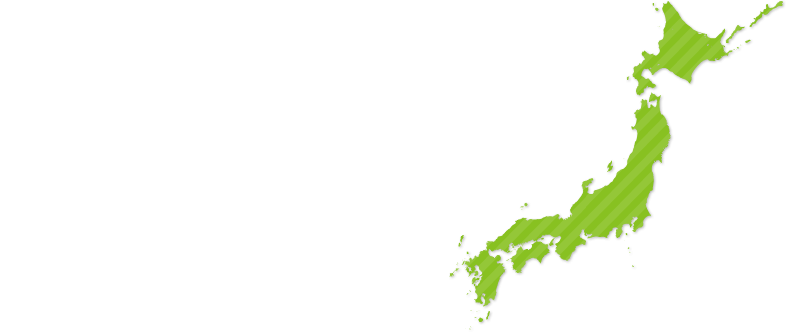 Point : Unique Local Classroom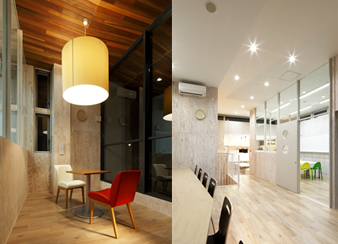 When using a combination of commercially available textbooks together in a program, it is very likely that from the third year onward it will become difficult to present a clear learning plan and convince yourclients of its effectiveness.
Our original course materials are only available through direct purchase and provide a nine year learningplan from the first year of kindergarten through elementary grade 6. Consistency and a fun learningenvironment, as well as "English Phonetic Guidance" are the cornerstones of our approach. Usually Japanese children attend an Ocean English course once a week for an hour and using our system this issufficient to effectively learn English. Additionally Ocean textbooks meet or exceed the "World Standardof Elementary School English" set by countries such as China and Korea.
Designed for Elementary School level students, the Talk Time series over a six year time frame teaches approximately 500 Middle School foundation level Question and Answer sets such as"What are you goingto do this weekend?" and "How long have you been in Japan?", as well as a vocabulary of approximately1200 words. Through continuous Phonetic Learning, specifically using English in a natural way followingthe example of a native speaker, by graduation from elementary school, students will have a MiddleSchool foundation level of English and be amply prepared to continue their English studies throughMiddle School.
By using the Ocean English System, your school will gain a reputation for having a "getting confident and comfortable using English" classroom rather than a "getting to know English" classroom. Presently in theTokai Area classrooms, using the Ocean System has the reputation of imparting strong English abilitiesto their students, especially in kindergarten classes and first to third year elementary school students. 


Point : Top Grade Teachers – Top Grade Management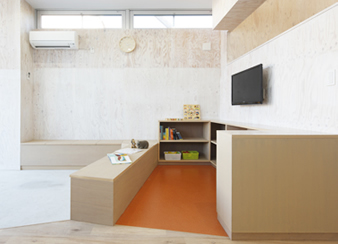 Having teachers who are particularly talented at guiding students, as well as proper management of the school is extremely important, since the majority of new customers will be referred through word of mouth from existing clients.
Meticulous student management and regular correspondence with parents will promote tremendous trustwith potential customers in the area and you will be known as the Number One – Only One classroom inthe area and we provide the support you need to gain that reputation.

Point : Affordable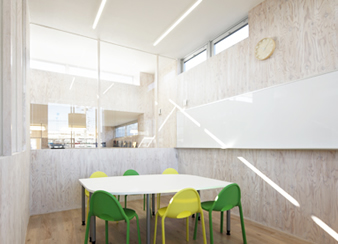 Nationwide, when major franchises are just beginning operations, start-up cost is generally not a majorfactor. However, after start-up, monthly royalties will take a significant portion of overall sales (40% isthe market standard), and under this system the head office is the main beneficiary.
Our policy is that those that do the work should see the returns.
Even though we still have nominal start-up fees, our smooth and attentive support plan provides discounts on textbooks and a less onerous yearly royalty fee structure.
From 2020, elementary schools will add English to the curriculum and university English entrance examswill undergo a large reformation. To prepare for this change, the number of parents, looking to supplement for their children's English education, will increase and our plan is prepared to accommodate those needs.

Point : Territory Exclusivity
National OEC schools will be guaranteed exclusive use of the Ocean System within a radius of 2km fromthe school's location.

Point : Membership
Franchise schools within the Tokai area are registered in our membership plan free of charge.
Membership benefits include, teaching and classroom materials with an initial purchase discount rate of50%, with subsequent purchases at a 20% discount. Furthermore, student textbooks and materials will have a 20% discount. Access to the members-only website is also included, with special resources such asteaching manuals and training videos available for download.

Point : Daily Operations Support

During the initial classroom start-up phase, we will provide all necessary tools as well as assist in the training and development of your staff. 
Should you have any questions about daily operations or client relations, please do not hesitate to consult with us via telephone or mail.
Manager Training (Three days training approx. 18 hours at Ocean Head Office)
・English Education Business 
・Classroom Operation
・Original Course Material Main Points, Teaching Style
・Student Management
・Various Materials (operational directions, calendars, timetables, etc)
Classroom Operation Support
・Time table Organization and Management
・Continuous Support via Phone and Mail
・Classroom Visits from Ocean staff
Teaching Aids
| | |
| --- | --- |
| ・SuraSura Speaking Challenge (Sample PDF available)  | sample |
| ・Phonics Challenge (Sample PDF available) | sample |
| ・Achievement Test (Sample PDF available) | sample |
| ・TalkTime 6 Additional Material "Let's Talk A" (Sample PDF Available) | sample |
| ・TalkTime 6 Additional Material "Phonics Master Supplement" (Sample PDF Available) | sample |
Business Support Menu
・Classroom layout, environment upgrade advice
・Promotional Materials (flyer template and branding data)
・Demo Lesson and Information Session Advice